The Luxi One Mattress
Affordable Luxury
The Luxi One is our most affordable luxury foam mattress. While it doesn't have the at-home customization options of the Luxi 3-in-1, it's still made with the essential shape-matching technology for the optimal level of firmness, cooling, breathability, and comfort.
What's different about the LUXI Mattress?
The Luxi 3-in-1 is the first-ever adjustable memory foam mattress-in-a-box. It also has an innovative, shape matching technology built into it. This is delivered by an internal column grid layer that insures abundant airflow and coolness and great "point elasticity" for pressure relief. And there's more …. The feel of the Luxi 3-in-1 Adjustable Mattress can be changed from FIRM to MEDIUM or SOFT at any time. And it is divided down the middle so each side can be adjusted independently with reduced motion transfer and built-in edge support. The Luxi 3-in-1 anticipates the needs and comfort preference of every sleeper.

Each of these unique features is based on specific engineering. The finished mattress has been designed to simply out perform every other mattress online. Other mattresses may also provide some "point elastic" performance (like independent pocketed coils or structural gel) and even side-by-side adjustability. But LUXI is the only bed-in-a-box mattress that does both. And then some.
How will these differences aide your sleep?
LUXI mattresses have the ability to provide softness, not because they are built with too many soft material layers, but from their ability to match your human shape. This is what "point elasticity" provides. LUXI provides low interface pressures at places like your shoulders and hips for nonhammocking, healthy support and optimal comfort.

Shape matching and "point elasticity" also provide an increase in interface pressure at select areas where you need it most, like the lumbar spine for those nagged by occasional or persistent low back pain.

The internal engineered column grid layer that provides these unique benefits, also delivers enhanced coolness because of the large openings or channels move heat away. These channels run both side to side and from head to toe for the greatest function and they have been configured to also increase motion damping and to add edge support around the mattress perimeter.

And because each side adjusts separately – there's no compromising of any of these benefits for yourself or your sleep partner.

Why is LUXI's "Try Before You Buy" purchase option so popular?
There are two purchase options, "Single Pay" and "Try Before You Buy". "Try Before You Buy" is popular because it is an economic alternative to having to pay the purchase price up front in order to start your in-home trial. And it's only offered by LUXI.
The "Single Pay" Purchase Option:
 Pay Full Purchase Price Initially
 Take Prevailing Discounts
 Free Delivery Shipping
 100 Night Sleep Trial Period
 Try Out LUXI's Full Adjustability Capabilities
 If You Decide Not To Keep Your LUXI:
  Donate It To A Charity Or Non-Profit
  Secure A Full Refund

The "Single Pay" option is typical for most for online mattress retailers. You are charged initially the full purchase price for the mattress less any prevailing discounts. Then you can take 100 nights to try the mattress beginning from the date it is shipped from the factory. In the event you choose to not keep your LUXI, you may at any time during the trial request a refund (provided you have actually slept on it, and have expressed your issues and worked with us to be sure all of LUXI's adjustability has been tried). After these steps, arrangement will be made for its chartable donation and a refund will be issued.

The "Try Before You Buy" Purchase Option:
 No Initial Payment is Required
 Free Delivery Shipping
 30 Night Sleep Trial Period
 Try Out LUXI's Full Adjustability Capabilities
 Pay The Purchase Price After Trial
 Take Prevailing Discounts
 If You Decide Not To Keep Your LUXI:
 You Will Never Even Be Charged For It
 Packaging Materials Sent For Factory Retrieval

With our "Try Before You Buy" purchase option, you have 30 nights after it's delivered to try it out before purchasing. This will allow you plenty of time to make sure you love it.
You pay nothing up front and receive a beautiful LUXI mattress - no strings attached. If you decide that LUXI is not for you, no sweat. You will never be charged for it. We will deal with picking it up and disposing of it in an environmentally friendly manner. You only have to notify us via this website's chat feature and we will send you packaging materials so it can be shipped back to the factory and we will arrange for that shipment. Once you receive the packaging materials you will have 5 days to tender the mattress for pickup.

How do I make a purchase?
Learn about the different payment options from the paragraph above and make your purchase selections from the links below.

Remember, "Try Before You Buy" is only an option. You can also get a 100-night trial by specifying "Single Pay". If you would rather have this longer trial period and the prevailing discounts, make your size selection from the traditional single payment buttons below in the left column and remember the discount code. You may be asked to provide the discount code as part of your review of your SHOPPING CART.

And also remember, if you choose the "Try Before You Buy" purchase option, your credit card will be processed twice. Initially there will be a no charge transaction to secure your shipping information and so forth and a second time for the purchase price of the mattress less any prevailing discounts at the end of your sleep trial, 30 days after your LUXI is delivered to you.

To add additional mattresses to your SHOPPING CART, return to this LUXI 3-in-1 Product Page or go to the LuxiOne product page. When you review your SHOPPING CART you will be able to add ancillary products and to confirm any prevailing discounts.




Sleep Meets Science. Comfort Meets Convenience.
Shape-Matching Technology is a pressure-releasing grid placed inside the Luxi Mattresses. Made from high performance foam and functions like independent, pocketed coils. When weight is applied, the foam column will collapse under that weight. But as weight lifts, the material will spring back at the body filling any void or curve with perfect support.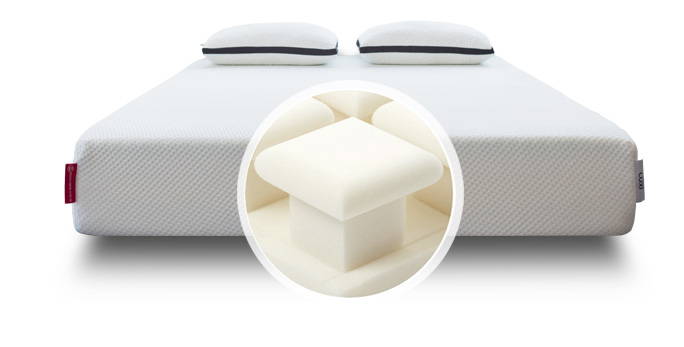 Relieves Pressure In All Sleep Positions
Compared to other bed-in-box options, Shape-Matching Technology enhances your sleep by relieving pressure where you feel it most. Filling any curve or void with the perfect amount of support but soft enough to be gentle where you need it most.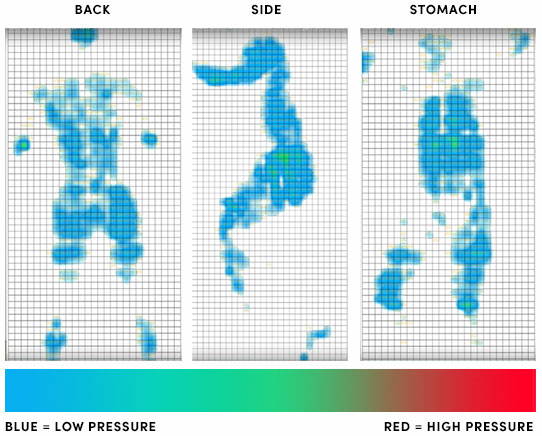 Pressure map tests shows the results of Shape-Matching Technology for pressure relief and weight distribution. Perfect mapping in every sleep postion!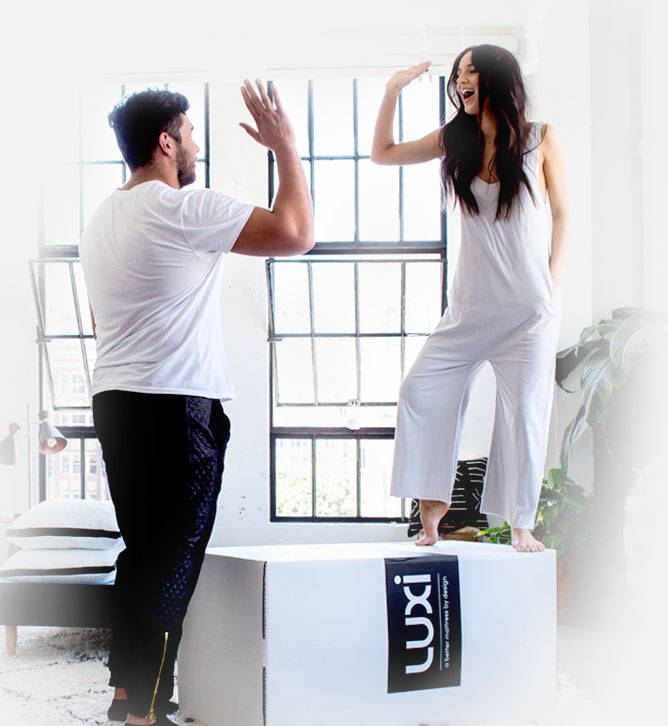 Easy Set-Up
Luxi Mattress's are compressed, rolled and packed in a box for easy delivery and setup. Usually ships within 3-5 days and shipping is free.
Medium-Soft Feel
Designed for every body type and sleeping style by filling any curve with the perfect amount of support but soft enough to be gental where you need it most.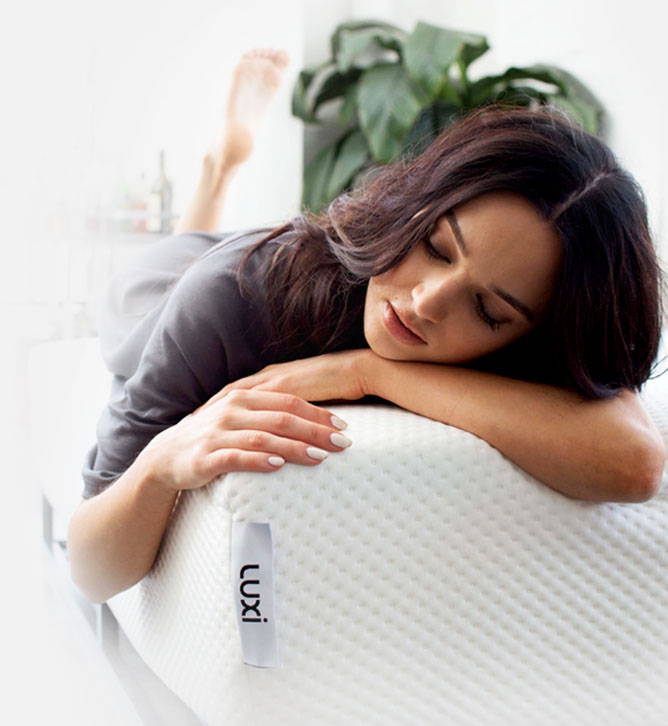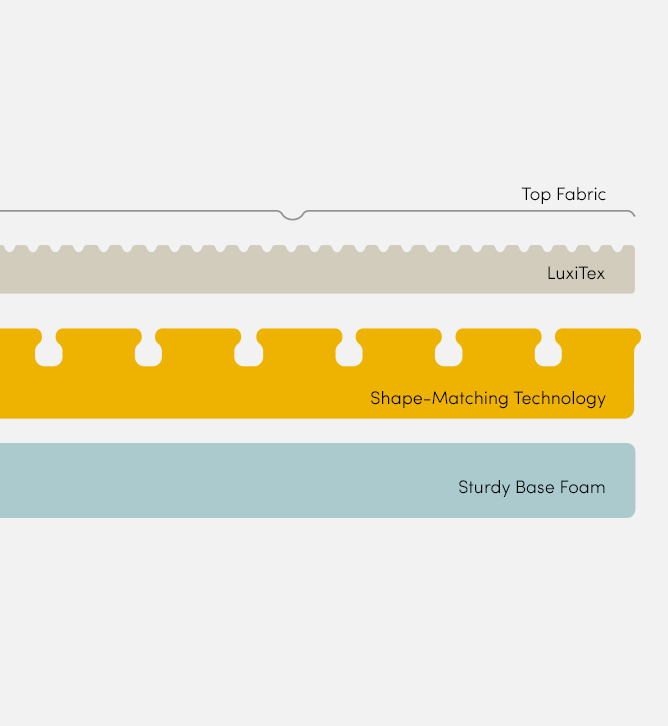 SHAPE-MATCHING TECHNOLOGY


ALL FOAMS ARE CERTIPUR-CERTIFIED

"I'm Love'n My Luxi"

"Luxi Is My Mattress Now And Forever! "
"#myforevermattress"

"Hugs In All The Right Places"
"The Comfort And Luxury Is Beyond Compare!"
Keeps You Cool With Product & Technology Innovation
Luxi is known for being one of the coolest sleeping memory foam mattress availble today.
1. BREATHABLE

 

With the help of our breathable top fabric, air flows through the mattress quickly to boost the speed of heat transfer.
2. HEAT REMOVING

 

SBT shapes function like a series of channels running horizontally both from side to side removing heat by airflow.
3. OPEN CELL

 

All materials are open cell structure to help with temperature control and keep you cool.
10 YEAR WARRANTY | 100 NIGHT TRIAL

Forget the 5-minute trial. Try your bed where you actually sleep.
Compatable With Most Bedframes
The floor
Platform
Boxspring
Slats
Adjustable
A better mattress by design
Introducing LuxiOne, the next-generation mattress at a more affordable price!
Frequently Asked Questions
What is the difference between Luxi and the LuxiOne mattress?

The main difference is that the Luxi is a 3-in-1 mattress and can be adjusted to soft, medium or firm for at home adjustments. The LuxiOne is not adjustable but still incorporates the essential Support Balancing Technology for a next-generation mattress at a more affordable price.
Pretty good !
Wish the luxi one was a bit softer, but it's very comfortable. I will add a small topper to get my perfect softness.
Great sleep
Comfy bed! Great customer service
Awesome Sleep!
I was having lots of low back pain from a bad mattress. After the first night my back was better, but I waited over 2 weeks to review to confirm. Still feels great!